Stand up Paddle Boards.
We are a dealer for Red Paddle Co boards.
Red believe that riding an inflatable paddle board shouldn't mean you have to compromise on performance, looks or quality.  Red's innovative, super-stylish boards are packed with leading technology that is subjected to extreme testing to prove their reliability and rock-hard rigidity – nothing else on the market comes close in terms of design and manufacturing quality.
If you would like to discuss the boards in more details, please call us on 017687 72912
Red's unique board design of MSL fusion composite and airtight coating,  means that you get a high quality board that is stiffer at lower pressure and saves almost 2 kg in weight.
Red have a wide range of boards and aim to have a board for every rider and every adventure. Please see below for details of some of these boards  or see Red Paddle Co's website for full details on all the boards, paddle & accessories available. Try before you buy – we will refund an hour's hire fee off the purchase price.
All Red Paddle Co packages come with:
Board
Paddle
Red Paddle Co Backpack
Pump
Repair Kit
Water resistant phone case
We stock a selection of Red Paddle Co boards, paddles and accessories and our staff are happy to discuss which board or paddle will suit your needs best. If we don't have what you want in stock, subject to availability with Red Paddle Co, we should be able to get what you want usually within two days.
All round boards.
The award-winning Ride boards are bestsellers, offering fantastic versatility and boasting unrivalled quality, innovation and design. Designed for use across a wide range of conditions, by all kinds of riders. The shorter models are better suited to surf conditions, while the longer wider models are aimed at the bigger paddler or at families who will be paddling together on one board.
It comes in a range of sizes sizes & there is also a Windsup available.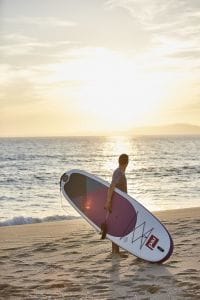 Touring boards.
Stand up paddle boarding is all about exploring, and Red's Sport and Voyager inflatable SUPs are designed for just that. If you're heading off on a multi-day trip or are just looking for a step up in performance, these are the boards for you. Unrivalled stiffness and stability mean they're ideal for carrying camping gear, whilst their profiled noses make them perfect for high-speed cruising enabling you to paddle further for longer. Being inflatable means that no matter where your adventure takes you, you can have your Red Paddle Co inflatable SUP with you thanks to our All Terrain backpacks.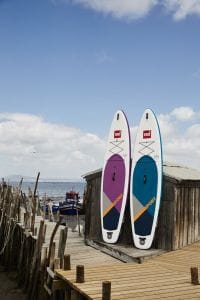 The Sport inflatable SUP offers a step up from the Ride family and has been designed for the more experienced paddler to deliver more speed and dynamic performance (although they're not race boards). It's secret lies in the boards sleek shape which cuts through the water cleanly, and the drawn-out nose section gives them more glide across the water. The Red embossed decked not only provides a great cosmetic finish but also offers additional grip whilst paddling. They are easily inflated with the industry leading Red Paddle Co Titan pump which will have you on the water in half the time, with half the effort. Once finished paddling the board deflates quickly to be easily transported in our All Terrain back pack.
The 11'0" offers fast inflation and great flat-water performance for riders up to 90kg/198lb. The additional width of the 11'3″ Sport offers the great stability.  The 12'6″ Sport is the longest of the three, providing the most glide and speed whilst still being easy to paddle. It is a great board to bridge the gap to our race boards however the 30″ width offers great stability so you can really enjoy longer touring trips. If you are looking for a board that will eat up the miles in a leisurely fashion then look no further.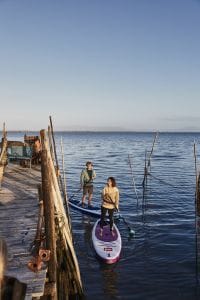 The Voyager 12'6″ increased thickness and capacity makes the  super-stiff and stable, so it's perfect for taller, larger paddlers and longer outings in a range of conditions, making this board an ideal vessel for long-range outings. The extra length means it can easily handle a child on the front while you paddle, or if you're going it alone, you can use the 6 point cargo tie-down system at the front and 4 point cargo tie down system at the back to take camping gear with you.  Multiple carry handles ensure that carrying is a breeze, no matter how much gear you have on board.  The RSS battens ensure the board remains stiff when loaded and slices through the water. Beneath is a removable fin which slots into the fin box by hand and is secured with a finger bolt. A nose runner fin aids tracking in side winds, whilst the two rear runner fins cancel out 'tail drift' when the board is loaded up.
The Voyeger 13'2″'s high sides, large volume and narrower width make it a high-speed cruiser, designed for competent paddlers.
The Voyager Tandem enables you to explore even the most remote locations with a partner. Tailored to the needs of two explorers (plus a third small companion with the removal of the central cargo points) who want to carry their kit along with them on their adventure. There are seven soft touch carry handles, and two luggage spaces.  The two pumps enables you to share the load of pumping up.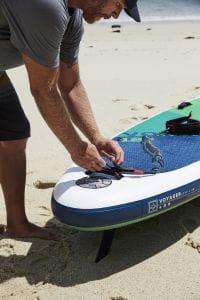 Speciality Boards
Our inflatable surf SUPs were born to ride the waves. Super-stiff and extremely durable, they're are short and have a wide nose and narrow tail making them perfect for all types of surf. And what's more, because they're inflatable, they're easy to transport to surf spots around the world. Made using our revolutionary MSL technology, they're super-durable and thanks to the RSS stiffening system, offer maximum manoeuvrability.
Here at Red Paddle Co we love to race, so we've created a specific range of boards boasting all our latest innovations to give you a competitive edge.
If you're into SUP yoga, we have the perfect board for you.  The Activ 10'8", offers you everything you need to de-stress and enjoy the peace and tranquillity of paddle board yoga. Designed specifically with yoga in mind, it has greater thickness than a Ride board and a wide, stable deck that is complemented with a full EVA deckpad to create the perfect yoga platform.
The Wind 10'7" and Windsurf 10'7" have all the features and performance you'd expect from Red Paddle Co SUPs, but with the added advantage of being able to become a windsurfer when it gets windy. And unlike traditional windsurf boards, that can be heavy and cumbersome, our Windsurf SUP's are inflatable so transporting and storage is a breeze!
The Wild 9'6" is the ideal paddle board to take on the rapids.  Designed with help from white water experts,  we've given it a shape that offers extreme durability and extreme performance. It's also a nippy board, perfect for river SUPing. High sides allow it to break in and out of the river flow, and it's got a pronounced rocker so it rides out the bumps.