Derwent Water Marina are a dealer for Tohatsu engines.  Tohatsu have been designing and innovating engines for over 60 years.  With their 4 stroke engine options ranging from 2.5 HP all the way up to 250 HP, a Tohatsu engine can cater for any scenario.  Derwent Water Marina can advise and tailor specific packages to clients wanting to either fit out a new boat or upgrade an existing set up.  If you are looking for a new boat why not check out our range of Pioner Boats and team it with a  new Tohatsu Engine.
All Tohatsu manufactured outboards sold for pleasure use have a 7 year warranty.  The Tohatsu warranty provides one of the best standard warranties in the industry on our Tohatsu manufactured 4-stroke outboard engines (2.5hp-60hp).  With the peace of mind that your engine is build to the highest of standards you are free to enjoy your days on the water.  Derwent Water Marina can organise the servicing of your outboard from its first service by our time served engineer.
Tohatsu offers you a wide range of outboard engine options to modify and adapt your marine outboard engine to your required specifications for any application.  With console or tiller options on most engines we can source all the appropriate accessories to mount and control your new Tohatsu engine exactly how and where you would like it.  For any advice or information please phone 017687 72912 or email info@derwentwatermarina.co.uk.
Portable 4 Stroke Range
2.5 HP – 9.8 HP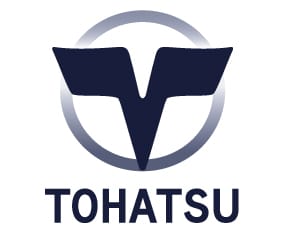 Medium 4 Stroke Range
15 HP – 60 HP